This time we do Ginga: Nagareboshi Gin, otherwise known as Silverfang. It's our first
review of a show that's actually good. It follows the story of a dog named Gin, a dog
born for greatness. He strives to be a great bear hunting dog like his father and defeat the the evil bear demon Akakabuto. He makes many dog friends on his journey and they must work together if they wish to take Akakabuto down.
So yeah, it's all about dogs taking down giant ass bears. Check it out aight?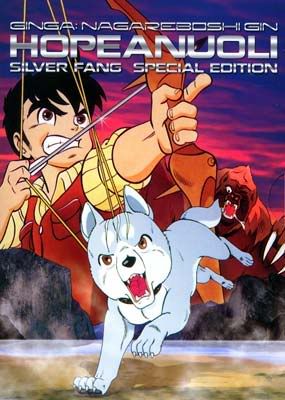 As always, we cover some newsbits and randomness before the show. We talk about Code Geass again and how distributor Bandai Visual
announces
that the second season of the show successfully sold over 100,000 Blue-Ray discs and dvds for it's volume one release. We then discuss the news regarding a
new season
of Full Metal Alchemist which was revealed on the wraparound jacket band of the 20th volume of the manga. Lastly we talk about the new Suzumiya Haruhi anime that's based on the
4koma
.
Download Podcast
(Right click: Save as)

Extra Notes:
Opening song: Kuusou Runba by Kenji Otsuki and Zetsubou Shoujo-tachi
Anime OP: Nagareboshi Gin by Takayuki Miyauchi
Ending Song:Nagareboshi Gin by Takayuki Miyauchi